February's Speed Read Challenge was directed to iceboats.  We thought videos of iceboats blasting around with SpeedPucks showing 60 mph + would be awesome.  But I was pessimistic about receiving entries into the contest.  The weather was uncooperative (wretchedly warm and sunny) and I doubted many ice-boaters had the necessary combination of cameras, SpeedPucks, and hard ice to enter the contest.
12 days later my suspicions were confirmed: no entries.  But everyone here at Velocitek (Alec, myself, and the cat) still wanted to see a righteous ice boat video.  So I struck a deal with a random iceboater I found through Youtube.   The deal was: a sweet SpeedPuck for a sweet video.  I sent him a SpeedPuck and two weeks later, received this video: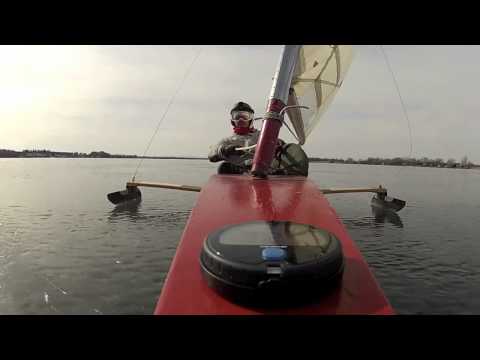 It's an awesome iceboat video! But it also serves as an example as a bad entry into the SRC.  Since we can't see the numbers on the Puck, it's about as useful as this cardboard spoiler prototype.
We'd like to thank Brian for the effort, however.  We're hoping he can make another iceboat video either this winter or the next with the SpeedPuck showing him breaking 50 knots.