This week's sailing video of the week comes from Urs Rothacher, skipper of BridgeRunner, a SL33 racing catamaran on San Francisco Bay.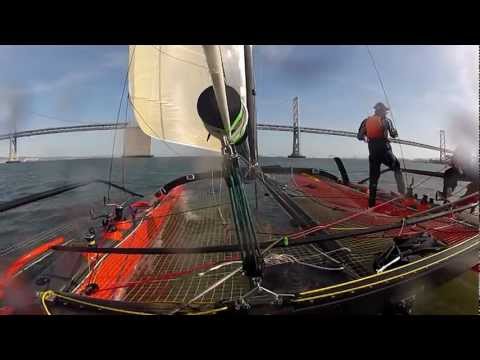 Photo by H20shots
BridgeRunner utilizes not one but two ProStarts to optimize race performance
This is a shot of the BMW Oracle Racing 90, possibly the fastest boat ever built.  Talk about flying a hull!
Following is my favorite sailing scene from a Hollywood movie.  Peirce Brosnan flips a Cat in very rapidly changing weather.   Also note at 1:14, Bond rolls across the tramp,  grits his teeth and cranks a winch…that doesn't have a line.
The catamaran is a D-Type Catamaran, an extremely fast and highly unstable yacht design from the 1980s. The D-Type's were designed by California based aeronautical engineers to try to break inshore multihull speed records. Today there are only a handful of them left in the world.