28 feet long and packing 81 m² of sail downwind, the E-Scow has been frequently called the rocket ship of the inland lakes.   When the weather conditions are best described as "Nukin!,"  these keel-less sleds can hit speeds upward of 22 knots.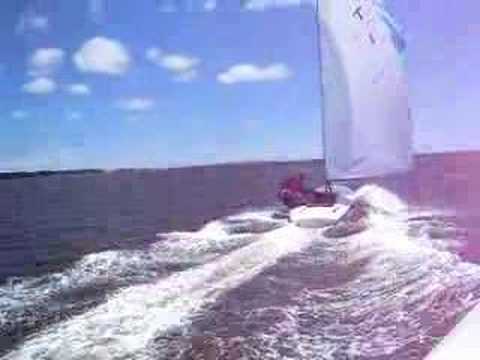 We're excited to announce we're hosting a Speed Challenge at the Spring E regatta, being held May 19-20th at Lake Geneva Yacht Club.  40 of the best E-Scow crews from across the Midwest will vie for the fastest speed of the day.  Whoever comes out on top will win both the glory and a $1000 Line Honors gift card.
We're anticipating a stiff breeze, stiff competition, delicious cheese curds, and some record setting speed runs.  Stay tuned, this could be the fastest Challenge yet.
Here are the official rules.
Fun fact:  In the days of yore, before hiking straps and trapezes, the most spry crew would "ride" the E's windward board to balance out the enormous rig.  As you can imagine – sudden lulls resulted in sudden lulz!