Our good friend Chris Fretz demonstrates the E Scow's acceleration in 25 knots of breeze: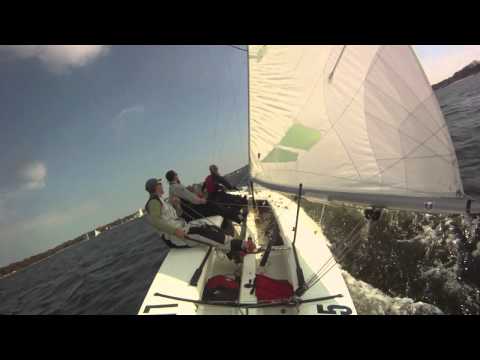 Boy, that escalated quickly!
We hope to see similar speed runs this weekend.  Tonight, Alec and I are traveling to the Lake Geneva Yacht Club in Fontana, Wisconsin to run a $1000 Speed Challenge.  35 boats will compete for the fastest speed of Saturday's racing.  The boat that comes out on  top will be the lucky winner of a $1000 Line Honors gift card.
The weather report for the weekend looks great – sunny skies and 15 knots of breeze (an overwhelming relief, I've had nightmares about no breeze and a winning speed of 1.2 knots for a solid month.)
After we get back on Tuesday, I'll post a report of our trip along with photos of the action and on boat GoPro footage.
Aloha Maui, Aloha Wisconsin!